Sweeney Todd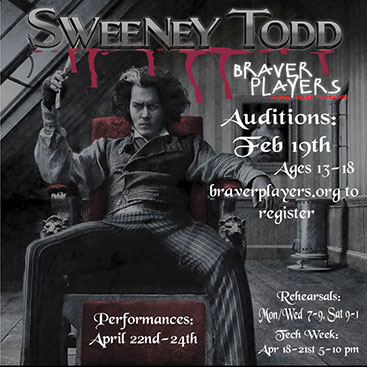 Ages 13-18
Auditions: Saturday, February 19th 2022 9-3 pm
Please prepare one minute song with accompaniment.
Bring and mark your sheet music.
Rehearsals: Mondays 7-9, Wednesdays 7-9, Saturdays 9-1
Tech Week: April 18th-April 21st 2022 5-10 pm
Performances: Friday, April 22nd, 2022 7:30 pm, Saturday, April 23rd, 2022 7:30 pm, Sunday, April 24th, , 2022 2:00 p.m.
Tickets:
Click Here to Purchase Tickets
Sign up to volunteer:
Click Here to Sign Up
Beauty and the Beast Jr.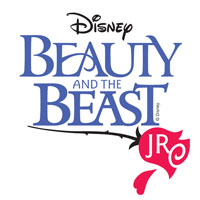 Directed & Choreographed by Jenna Solkow
Musical Direction by Landon Bullard
Produced by Chelsea Braverman
Ages 10-14
Rehearsal @Braver Players Studio
151 Kalmus Unit H9A
Costa Mesa
Tuesdays/Thursdays 6 pm-8 pm
Auditions Thursday March 22nd, 2022  5 pm-8 pm
First Rehearsal March 24th, 2022 6 pm
Tech Week Tuesday, May 31st- Thursday June 2nd, 2022 4:30 pm-9:30 pm
Performances: Friday June 3rd 7:30 pm
Saturday, June 4th 1:00 pm; Saturday, June 4th 5:00 pm;
Sunday, June 5th 3:00 pm
Tickets:
Click Here to Purchase Tickets
Make Second Payment:
Click Here to Make Second Payment