About Us
Braver Players Musical Theater Foundation provides school musical theater productions that are both educational and fun. Students gain confidence, learn new skills, and make new friends.
Braver Players has been serving elementary schools in the greater Costa Mesa & Newport Beach area since 2013. We deliver exceptional youth musical theater instruction and experiences. We have over 10 years of experience in helping elementary schools mount any size school play. Whether your school wants to keep it simple and perform in your school's MPR or go big and perform in a state of the art theater - we are here to help you make it happen.
Our dedicated, professional staff bring a passion for theater and provide a fun and engaging learning experience. Our productions are set up for up to 60 students and we strongly feel that every cast member plays a vital role. Whether in a lead role or in the ensemble, our staff make sure that every student has a great experience and knows they add value to the production.
Our musical theater instruction provides a creative outlet that gives students the opportunity to express and develop their creativity in a safe and comfortable environment. Braver Players helps students gain confidence, speak more clearly, project their voice and move more confidently. The experience gained from our program will build skills that last a lifetime and instill a lifelong love and appreciation of the performing arts.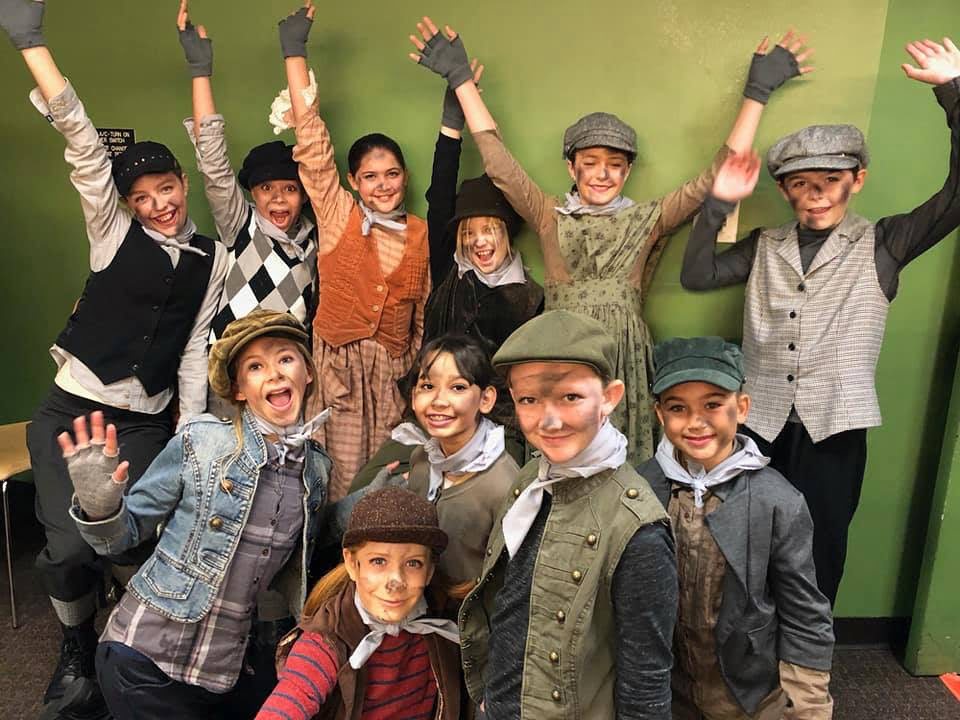 Bring Braver Players School Productions to your school!
Cost:
$500 booking fee
$10,000 production fee
What's included: This experience will provide 9-10 weeks of theater instruction provided by Braver Players as well as the opportunity to perform for family and friends in a fully staged production complete with lights, sound, sets and costumes.
Students will be instructed in acting, singing, and dancing, learning all aspects of musical theater.
Braver Players will provide: Consulting Producer, Director, Stage Manager, Musical Director, Choreographer and optional Live Musician.
Braver Players staff members will attend planning meetings, parent meetings, one/two days of auditions, all rehearsals (twice a week) for up to 10 weeks, tech week rehearsals, and all performances for up to 60 students.
All technical production elements (lighting/sound design and operation, mic rental, prop rental, set rental, costume rental, etc) require separate fees and are not included in the production fee.
Optional Live Musician: There is a $100 per performance additional Live Musician fee for the music director or a hired musician to play the performances live, if elected by the director and school coordinator.
Approximate Production Timeline:
Prior to Summer Break:
Select a show date for the following school year and secure your preferred date with Braver Players by paying the booking fee before the end of the school year. Once the calendar fills up it will become more and more difficult to accommodate certain dates.
6-8 months prior to your show:
Sign contract with Braver Players and assemble production team - Braver Players team consists of Consulting Producer, Director, Stage Manager, Musical Director, Choreographer, and optional Live Musician.
Find and secure a venue
Select dates for registration, auditions, rehearsals, tech week, performances and cast party. Plan for two rehearsals per week for 10 weeks, plus 3-4 days of tech rehearsals leading up to the show date.
Select a show, purchase the rights and order scripts
3 months prior to your show:
Announce show and start registration
Hold auditions
10 weeks prior to your show:
Start rehearsals
Start set design and construction of sets & props
Start costuming
Start putting together your playbill
3 weeks prior to performance
Complete sets, props & costumes
Set up ticket sales
1 week prior to performance
Tech week & dress rehearsals
Meet the Team:
Chelsea Braverman - Consulting Producer
Pam Emans - Director & Stage Manager
Carina Morales - Director & Choreographer
Rachel Harkavy - Director
Ramy Alhawari - Musical Director
Landon Bullard - Musical Director
Ryan Fredericks - Musical Director & Choreographer
Aaron Al-Imam - Musical Director
Josie Martino - Choreographer
Miranda Vasquez - Stage Manager
Tatum Harkavy - Stage Manager
Recent Productions:
Little Mermaid Jr.
Willy Wonka Jr.
Frozen Jr.
Aladdin Jr.
High School Musical Jr.
Matilda Jr.
Lion King Jr.
Mary Poppins Jr.